I cant help it, I walk into the local craft and hobby stores like a kid walking into a candy store... The Fall and Christmas decorations just make me smile.  So what better way to add some fun crafts in July than to start preparing for the seasons ahead.  With 4 kids all in school this Fall, I figure this is a great way to get a head start on personalized (handmade) class gifts, and gifts for our friends....
So, here are some great Christmas ideas to add to your make-it list this year...
These handmade alphabet bean bags are number one on the list this year, we are all excited to be working on our version of these for a few special little ones in our life.
Little Blue Boo -handmade alphabet bean bags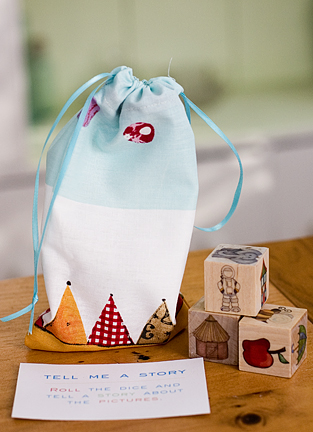 Stitch and Craft -story dice tutorial
Make It Do - Make a Snowman Kit
The Thrifty Chick: Handmade Personalized Checkers
Coleys Corner: Snowman Candy Wrappers
Scrappybetties Note Card Holders  
Crafty Crow Christmas Links/Ideas
The Artful Crafter -Altered Altoid Cans (we are making these for classmates this year for my kindergartener, inside each tin will be a set of Alphabet Matching Cards using some of my favorite digital scrapbooking supplies from designerdigitals.com.
We also are making these for some friends we visit during the Christmas season:
These are lightbulb reindeer, simply made with burnt out lightbulbs, craft paint, and a few craft supplies like pipe cleaners, craft pompoms, etc. my kids really loved painting these and then I would apply the hot glue and they would adhear each of the other items. 

I think in general the Holiday season is easily buried in the mantra to buy more, to get the PERFECT gift, to overindulge, which all usually brings on stress, wasted time and spending an aweful lot of money.  We have really reevaluated things around here this year, and getting back to some of the basics means finding ways to use our creativity to be a blessing to others.  This year our gifts will be handmade, which continues what I shared last week, the kids are learning to knit and sew and we are canning fruits and jams, all things that will be meaningful and heartfelt gifts that they have put so much time and effort into.  I have a sneaking supspission that they will enjoy Christmas even more this year when they see the joy they are able bring others by giving gifts that they crafted and created themselves.
And you can always check out the 'big' sites for lots of inspiration and ideas:
Martha Stewart Handmade for kids 
This is also a great time of year for giving, giving back and lending a hand.  It is normal during the holidays to feel the urge to donate to local food pantries or shelters.  But this time of year is quite difficult for some families in need, so why not consider participating in a school supply drive, or donating backpacks and canned goods to local charities and shelters now.  Why not bake a pie and take it to a neighbor, or mow the lawn down the block.  Today, tomorrow, this week its just as a good a time as any to lend a hand to someone in need, to show a little light in the world, to offer some help, to share from your world to others.
Looking for more fun summer ideas, how is your summer 'bucket list' going... dont forget I have created a list of 100 ideas to do with kids this summer... Hope you have marked some of them off the list and are enjoying everyday to the fullest... (I filled out our calendar for August and am sad to see summer dwindling away so quickly, so we are busy having some more fun this week and have GREAT plans for next week) stay tuned...